Steph Albano
Category
Blog
Date
Hits: 474
Meet Patty Reilly - Flyfishing Guide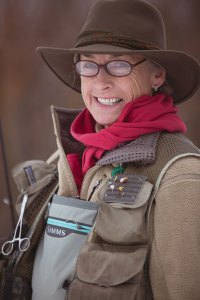 From time to time we like to feature some of the amazing women in flyfishing today.
Meet Patty Reilly! Patty has built a resume that is arguably one of the most impressive in the industry. She's been guiding for 35 years in addition to teaching fishing schools, she also built her international consulting business in the process. Her guiding included time on her home turf of the Jackson Hole region of Wyoming beginning in the late 70's and then moving on to guide in Alaska from Illiamna, Montana from the Firehole Ranch near West Yellowstone, the South Fork of Snake in Idaho, horseback and fishing trips through the Wind Rivers, and steelhead guiding on the North Umpqua, and the Grande Ronde rivers in Oregon- to name just a few places.
Patty and a fishing cohort were the leading guides to begin commercial trips in the Bariloche region of Argentina by obtaining the first issued commercial river running licenses in that country. Having fallen for Patagonia in a big way, Patty spent over a decade guiding there and has explored and fished much of Argentina and Chile. As the world continues to re-open post-Covid, Patty will be co-hosting our Mexico trip with us and additional fishing trips and outdoor eco-adventure trips in Argentina and Chile through her Guided Connections.