February 3-10, 2024 -Sold Out!
January 27- February 3, 2024
Kay Fly Fishing Lodge

We're incredibly honored and excited to host a women's saltwater trip at Kay Fly Fishing Lodge with Lily Bertrum and Jose Ucan.  Their lodge is located in Punta Allen, within the Sian Ka'an Biosphere on the edge of the Great Mayan Reef, the second largest barrier reef in the world. We'll be targeting Bonefish, Tarpon, Permit, and Snook. Jacks, Barracuda, Snapper and other species are also cruising the flats. The migratory Tarpon are not in the area at this time but Lily reports solid numbers of the 'big 3', (Baby Tarpon, Permit and Bones) are in the area for those who are looking for an opportunity to slam. If you are new to saltwater flyfishing you'll have plenty of shots in Ascension Bay. 
This is truly a family owned and operated lodge offering an authentic experience. Lily and Jose are onsite with their team of local guides and cooks. Breakfast options include eggs, meats, fruit and the traditional Huevos Rancheros. Your lunch includes sandwiches, chips, fruit and plenty of water, sodas or a couple of beers. Local chefs strive to offer seafood or Mexican dinners that will allow you to experience authentic flavors while you are in Mexico.  Boats go out most days with both a head guide and an apprentice guide (with two anglers). Most of Kay Fly's head guides have been with them over 10 years -all over 5 years. Most apprentice guides at least 5 years.  If you are new to saltwater, having two guides on the boat presents a great opportunity to learn, laugh and grow in your flyfishing. 
The Sian Ka'an Biosphere offers the chance to see 325 species of birds, four species of turtles, dolphins, manatee's and an abundance of other wildlife. New anglers will have plenty of shots to land fish, as many species are plentiful. Particularly Bonefish, 'the ghost of the flats'.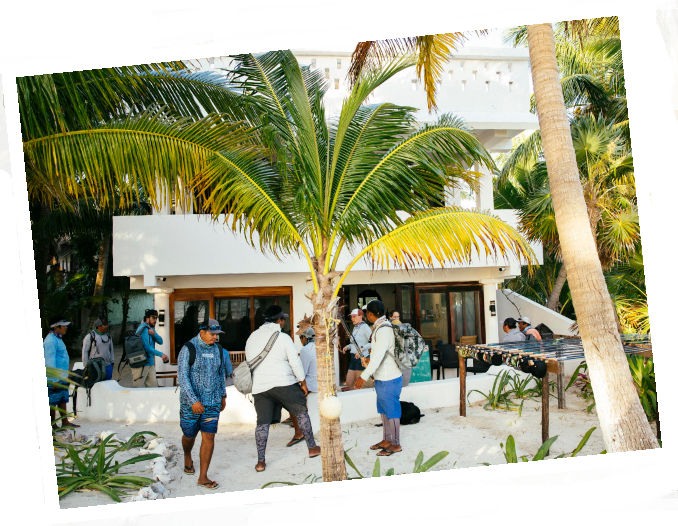 Kay Fly moved into their new location last year; a multi-story beautiful beach front property they designed and renovated to offer an incredible Punta Allen flyfishing experience.  
Jose Ucan and Lily Bertrum (husband and wife) are on-site to to make sure things run smoothly.   Jose is a Punta Allen native and started guiding when he was 14; more than 26 years of guiding experience now. If you follow the big tournaments you'll know that Jose has done well at the Dell Brown and March Merkin tournaments and you'll see a couple of these trophies in the lodge. Lily is also an incredible angler and wonderful hostess who has been managing lodges in Punta Allen for more than 18 years.
A typical day starts at 7 AM with breakfast and guides arrive shortly to help load and get you on the water by 8. Boats return around 4. Appetizers are ready between 4:30-5. Dinner is usually at 7 PM.
Fly into Cancun and the lodge will pick you up at the airport! Flights should arrive prior to 12:30 PM to catch the last shuttle or stay in Cancun an extra night for a little extra R&R. The lodge vans will carry us part way to Punta Allen. Then we will board boats to finish the shuttle and avoid the roughest section of the road. The total shuttle is approximately 3 hours from the Cancun airport.  The return shuttle leaves the lodge 7:30-8 AM. Your flight home should leave after 2 PM on the last day.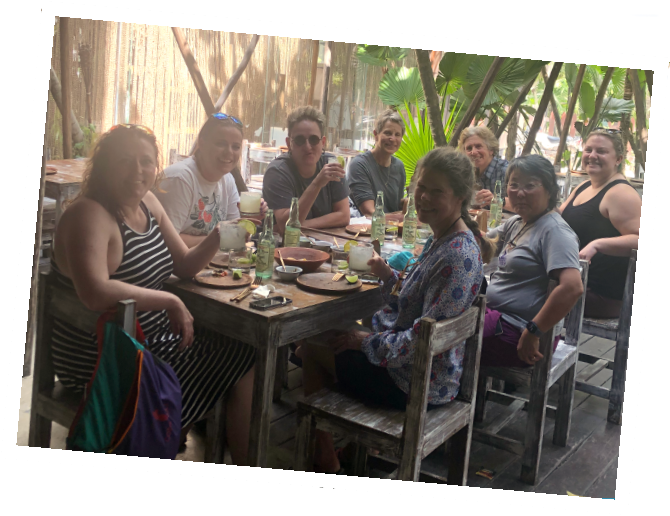 The lodge is situated on a beautiful white sandy beach. Double occupancy accommodations offer A/C and private bathrooms. The main floor has a welcoming dining area, tying room and beach front patio overlooking the ocean. Relax on the beach, in your room, the patio, or the roof top bar after fishing to enjoy a drink, swap stories and spend time with a great group of women. Two rooms are ocean front and the other three are in the same building but do not have ocean views. Hammocks are available in multiple locations if you'd like a quick outdoor siesta!
Kay Fly's bar is stocked with most standard liquor and mixers. They have local beer on-site.  Your bar tab is not included in this package and Kay Fly encourages you to bring whatever you'd like to drink if you'd like to keep costs down. Our shuttle from Cancun will stop at the market and you can purchase liquor at the Duty Free shop in Cancun on your way out of the airport. You can also purchase drinks from Kay Fly's bar and settle up with cash or check at the end of the week.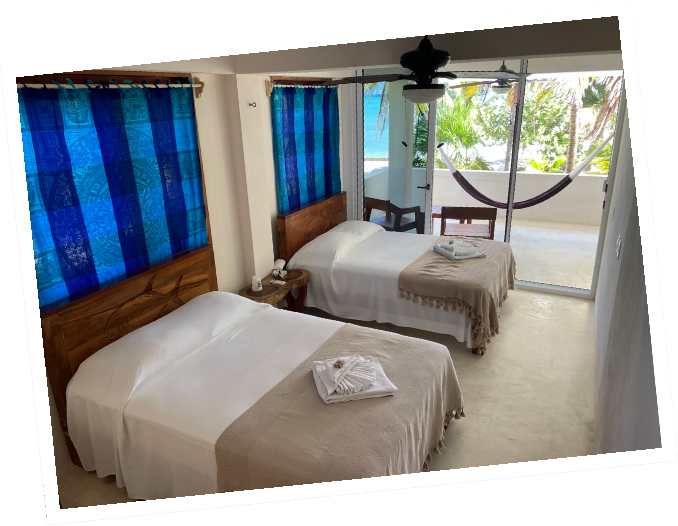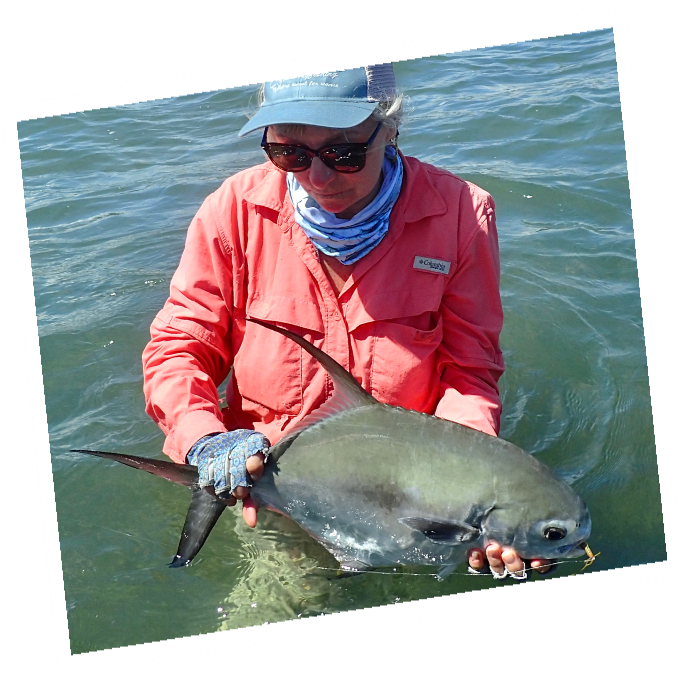 6 days fishing and 7 nights lodging double occupancy.

All food and non-alcholic beverages at the lodge.

Round trip shuttle to Cancun.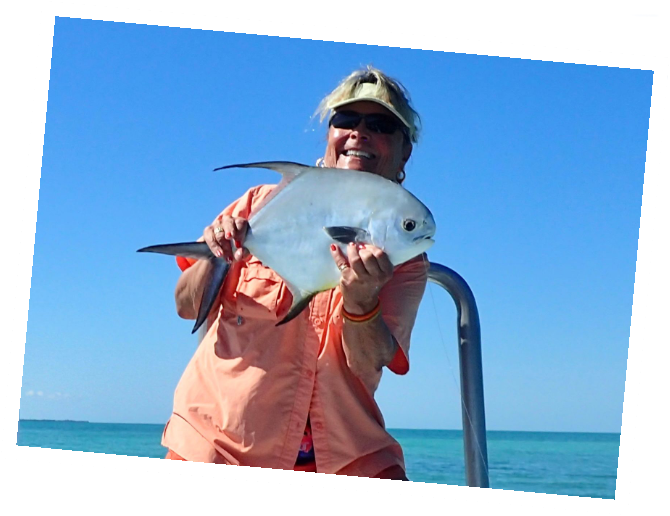 Gratuities for guides ($100 per boat per day and $30 per night for all other staff). 

Travel to Cancun.

Flies and leaders. Rods can be rented from the lodge.

Covid test fees prior to returning home as required by the US Government at time of travel.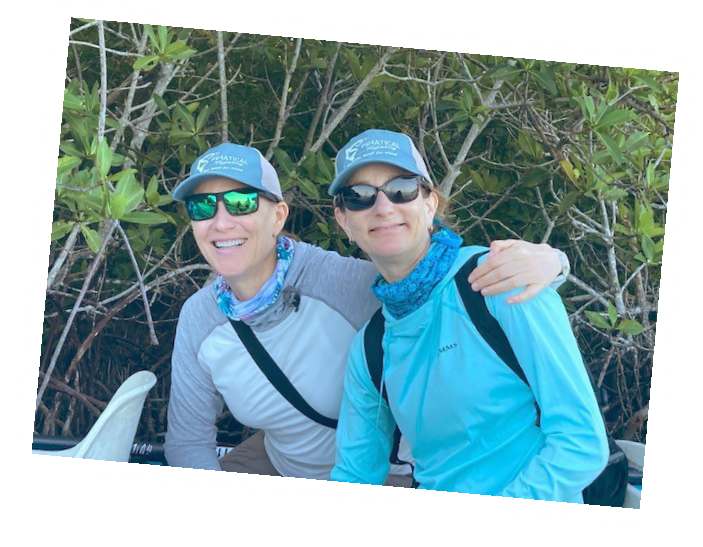 Stay Current on All New Trip Announcements by Joining Our Newsletter