Steph Albano
Category
Blog
Date
Hits: 730
Amanda Bauman and Project Big Wood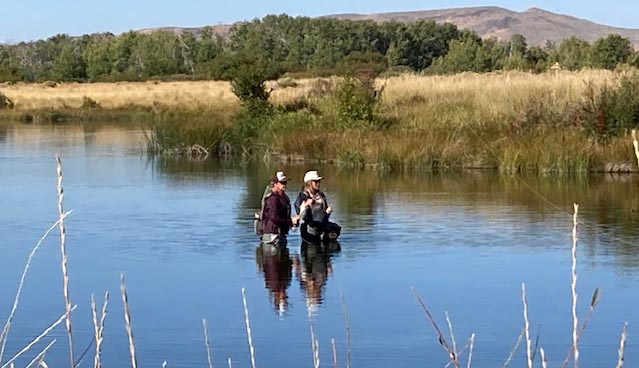 From time to time we like to feature some of the amazing women in fly-fishing today.  Amanda Bauman is a guide at Silver Creek Outfitters in Ketchum, Idaho and guides on Finatical Flyfishing's September women's trip. The Sun Valley, Idaho area has a multitude of great water. Silver Creek is very well known but the Big Wood is also a great fishery and Amanda is at the forefront to protect this river when she isn't guiding. 

Last June Amanda accepted a position as the Executive Director of Project Big Wood. The organization's mission is to restore and enhance the Big Wood River's environmental and recreational potential by activating community pride, educating residents and visitors, and engaging the river's most passionate users. They have begun by launching Big Wood-311 - a landing place for the community to report or discuss concerning things they observe or hear on the river. This can be as simple as a great hatch you experience on the Big Wood to a backhoe being in the river; they want to hear it all. Project Big Wood hopes this will increase community engagement in river issues and become the first step to getting the info into the right hands. They are also working closely with the county on The Big Wood Atlas and we can't wait to see how that evolves throughout the spring. Go check out their website -it has great public resources and videos. 

If you have not had a chance to fish with Amanda, she is a great person to get to know. Super fishy, athletic and a fun personality that will put you at ease and on the fish. She loves doing walk wade trips and says it allows her to really 'lean into the trip and her clients day'. She is a great instructor on the water as well as knowing where to find fish.  With her new role as Executive Director, Amanda will guide about 80 days in 2023 with many of those already booked. (She is on 2023 Finatical Flyfishing trips!)  Amanda has a lot of respect for Silver Creek Outfitters and is honored to be a part of that team. She really enjoys her guide days on the water and if you are lucky enough to join her -you'll agree it shows. Congratulations on all of your success Amanda. Can't wait to see all you accomplish in your new role and hear more when we see you in September!