Steph Albano
Category
Blog
Date
Hits: 1694
An F3T Win is a win for Corie Berrigan and Women in Flyfishing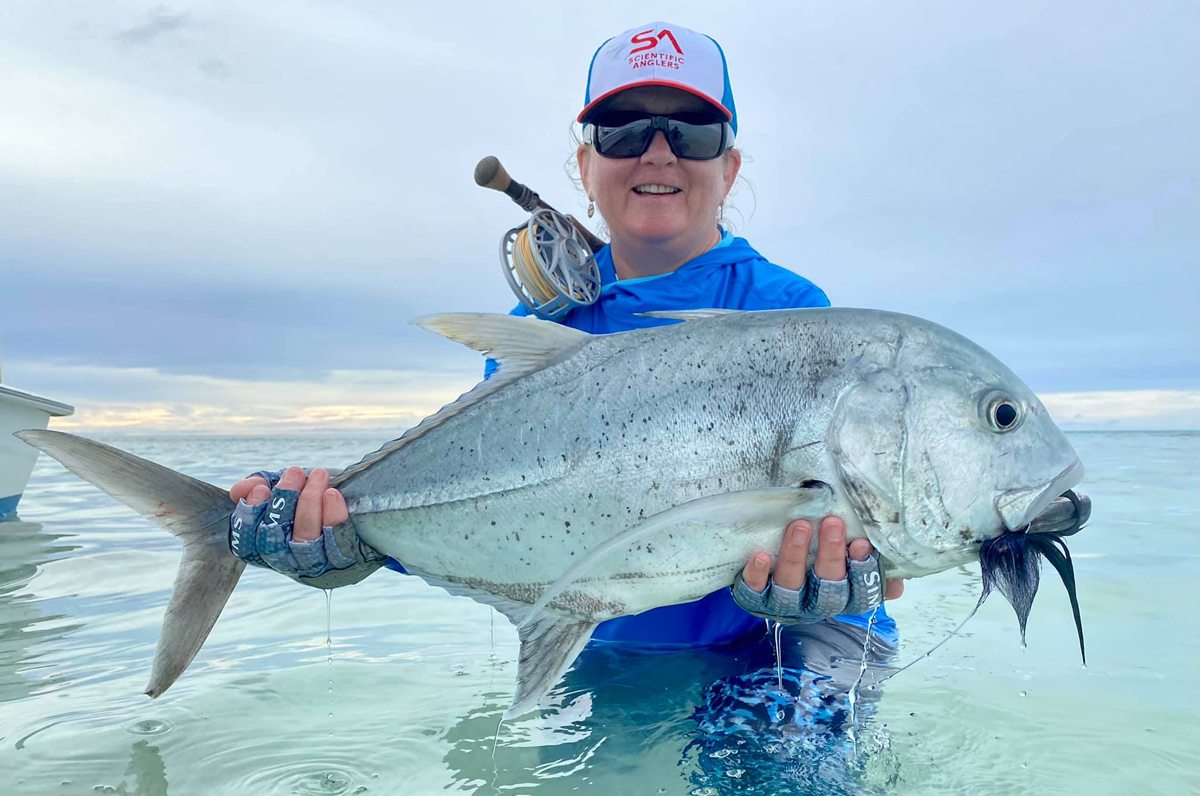 The Flyfishing Film Tour (F3T) aims to inspire us each year with amazing destinations, epic photo's, anglers and catches. Then there is the raffle. Now that you are in the midst of a flyfishing frenzy, you're hoping to win that amazing Seychelles trip and put all of this energy into landing some serious adventure.

Corie Berrigan was that lucky winner who recently completed her trip to Alphonse Island. Completed it….and killed it while she was there. Watching her story unfold with each day's report, you quickly figured out that Corie gets it done. After the long trip over, Corie's day one included one landed GT and another large one that fought a tough battle and disappeared. She then topped that off with four of those amazingly wild and large bonefish that cruise the Indian Ocean flats. A pretty amazing day one!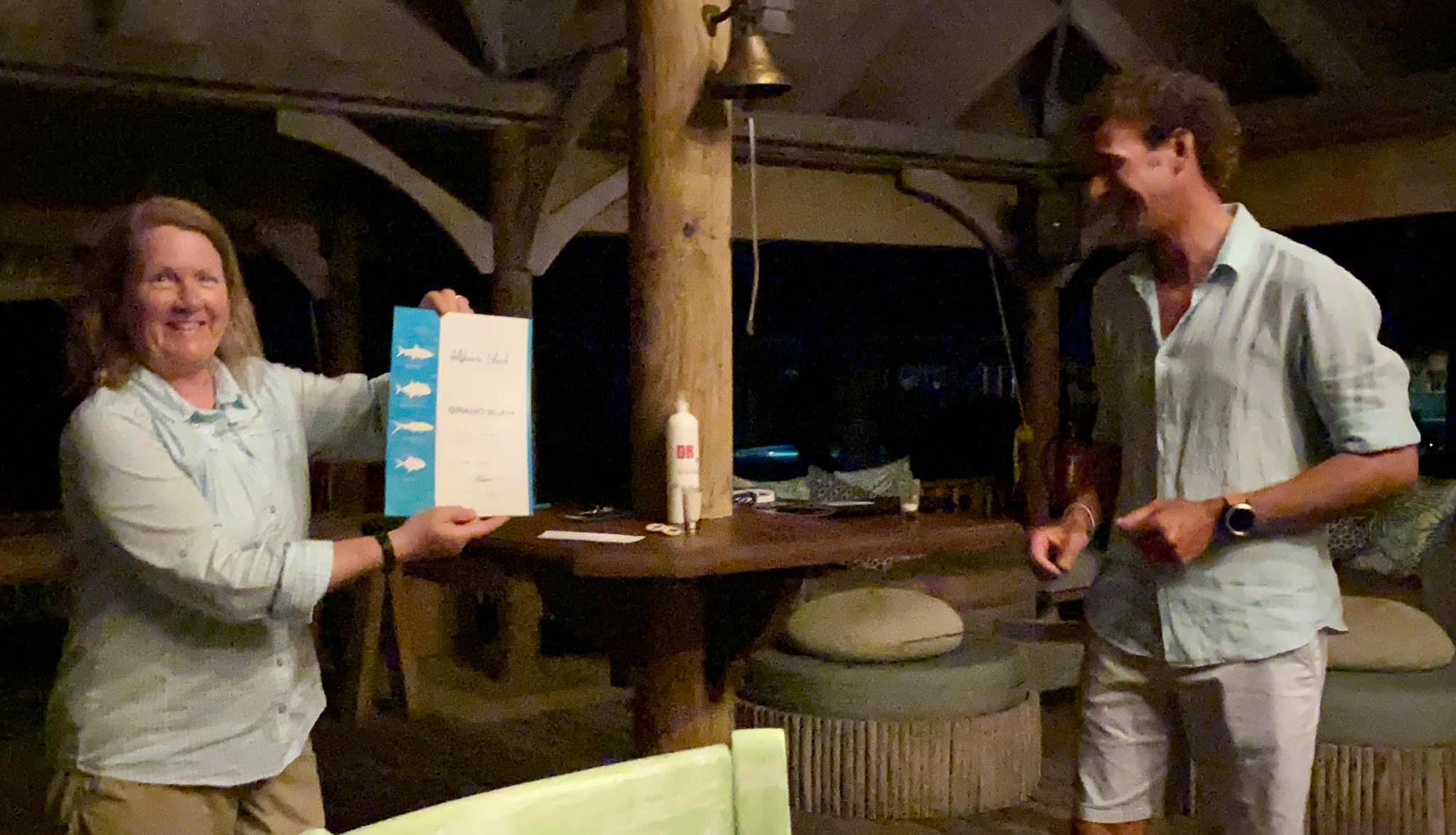 Fighting GT's is a little different than any other fish you might chase. The waters of the Indian Ocean offer an experience that demonstrates 'eat or be eaten' every day. This wild and truly epic experience is difficult to put into words as predators survive and those that don't find lunch, quickly peril. If you saw the 2017 BBC film on GT's eating Tern's out of the air you get it. The aggression of these fish is incredible to witness. Hooking one is no easy task. Fighting them is a true battle. They'll fight you for every ounce you have. Give them an inch, and you are out of the game.

For some, just casting 11 and 12 weight rods to these fish is a challenge. Corie stepped into day two continuing to land and fight GT's and the Bonefish that ran well over 200 feet into her backing.
While the weather cut them short on day three, she made up for lost time on day four. Two Giant Trevally, four Bluefin Trevally, two Big Eyed Trevally, two Three-spotted Pompano, a Barracuda, five bones and 15 pounds of junk fish Brean. This girl can fish!

Could it get any better? Well, yes it could. Corie greets day 5 with a cheerful "Good morning,….let's go fishing" post on her Facebook page and proceeds to slam. Her Seychelles slam included a GT, Permit, and a Bonefish. Many anglers spend years chasing one of these species to no avail. Keep in mind, that all of this comes together in an environment that isn't easy to wade, hike and endure the elements. Well done, Corie, well done.

The final day's report included this, "Bones to the left of me, bones to the right of me stuck in the middle on bones! Bones as far as the eye can see just amazing flats fishing. Seriously quit counting at 30 bones, most likely caught 50+ bones in one afternoon just flipping amazing!!"
Following this epic adventure from across international waters, a lot of folks were excited to see this dream trip play out for Corie. She shared on Facebook so her friends and FFI Women Connect colleges could experience this dream trip right along with her. That being said, Corie is as humble as she is kind. So many fish landed in an extremely tough environment that requires serious skill, endurance, and a proper attitude to make it happen.

Although anglers, from all over the globe travel to the Seychelles each year, it would be interesting to know how many go home with these kinds of memories. If you believe in karma, it was likely at play here when she won that trip from F3T. Corie gives an extraordinary amount of time to women's flyfishing organizations. She is the Committee and Communications chair at FFI Women Connect. She teaches at Morgolola which is a beautiful new school on the Rush River in Wisconson. Check them out at Morgolola.inc on Instagram -their website is coming soon! She works very hard to bring new anglers, specifically women to the water. Always humble, always supportive.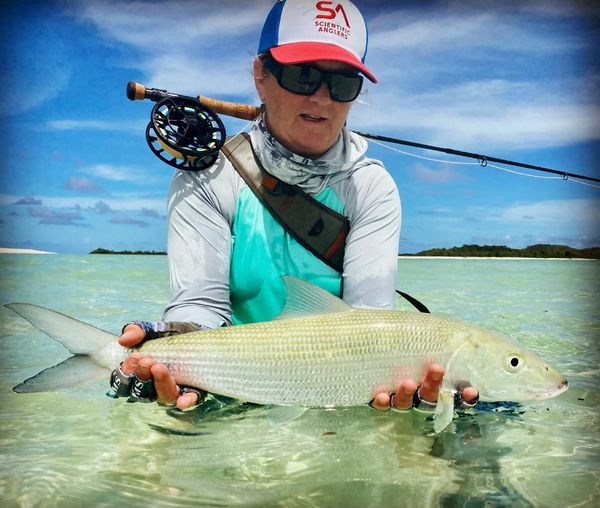 When asked about the experience she is grateful to F3T for such an amazing win and film tour every year. Regarding Alphonse Fishing Company, "Everyone was so nice it was a great experience, everyone that worked at Alphonse made you feel like you were part of the family." Check out the video showing her slam certificate and pin presentation by Alphonse Fishing Company. In addition Corie ads, "Brenda at Yellow Dog also helped immensely with travel arrangements and making sure all connections went smoothly. She was very excited I had such fishing success too."

"I'd like to add that I had a lot of support from good friends helping me prepare by offering advice on packing, gear and lessons learned from Adam Aikens at Fly Fishing, LLC, Kim and Tony Ferrie at Dry Fly Sales, Tony Stifter, Scott Struit and Mike Rolek. Many additional friends offered advice and shared excitement. Thank you to all of these folks and to the social media friends who traveled with me along my journey."

We each set out on this flyfishing journey to catch fish and enjoy the sport of a new pursuit. However, along the way we find community, friendship, challenges, growth and the chance to meet some amazing people who ultimately influence our paths and change our lives. Corie's story is a great example of all of this. The friends who helped her in her journey, those she met along this amazing experience and those she helps every day through the organizations she volunteers with that are too numerous to count. Cheers Corie! Well done!