Steph Albano
Category
Blog
Date
Hits: 1098
Lily Bertrum and Kay Fly Fishing Lodge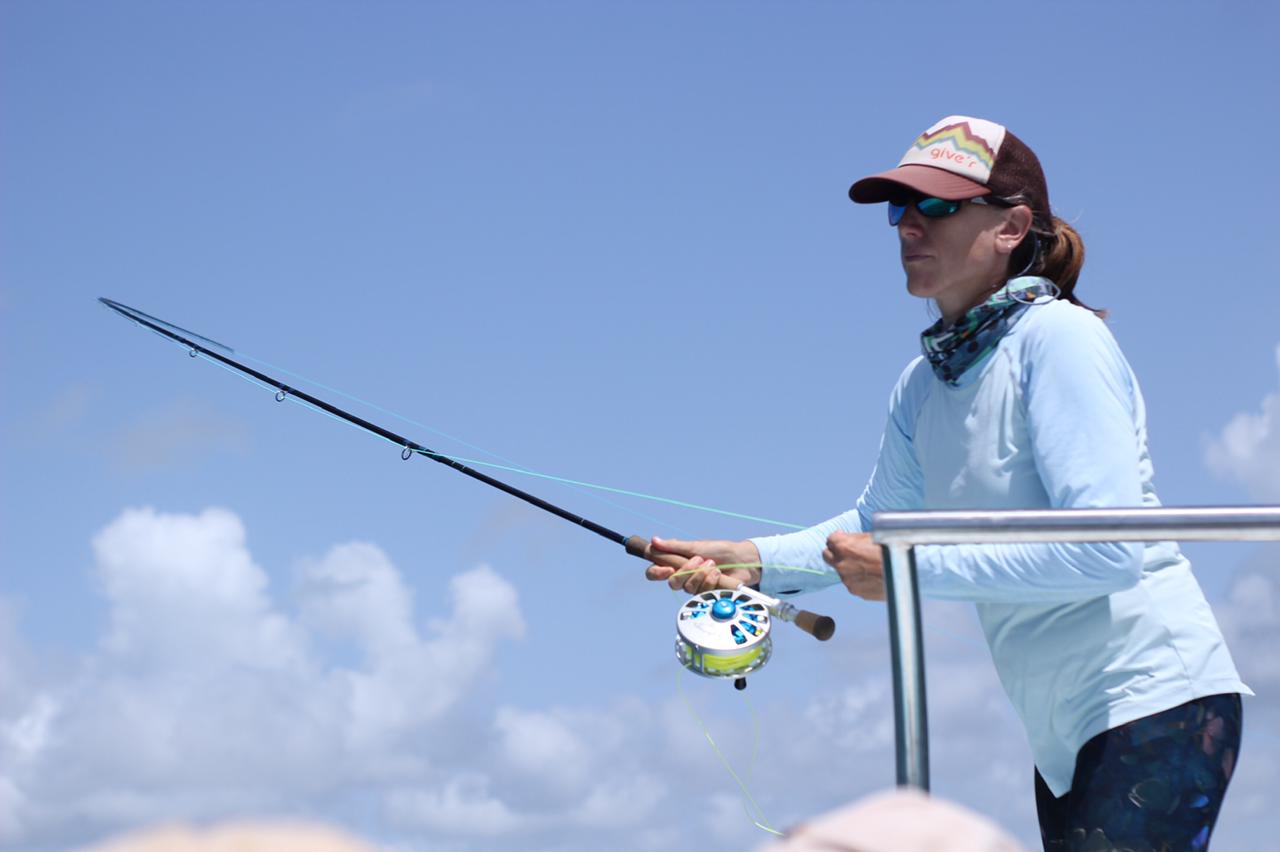 From time to time we like to introduce you to some of the amazing women in flyfishing. Meet Lily Bertram! Lily grew up in western North Carolina and when she had the chance to work for a friend of her Aunt's in Punta Allen she jumped at it. She spent three seasons working at Cuzan Guest House for Sonja and Armando. She then became the lodge manager full time and Punta Allen became her permanent home.
Cuzan offered flyfishing trips and other Mexican adventures. Lily had never fished before and wanted to learn and Jose Ucan (who grew up in Punta Allen) was guiding for the lodge. In their 'down time' over those first few seasons Jose taught Lily to fly-fish. When she returned to the lodge to manage full time, Jose and Lily began dating and are now married and partners in Kay Fly Fishing Lodge.  
Lily managed Cuzan from the same location until 2012 when La Pesacadora was being built. They moved into La Pescadora in 2013 and Lily continued as lodge manager and Jose the head guide through February 2021. In November of 2021 they moved into their own building as Kay Fly Fishing Lodge and Lily and Jose own and operate their own business today. 
When they renovated the current building, they had a family operated fishing lodge in mind from the start.  The home opens to the beach with a beautiful patio, hammocks and rod storage and cleaning facilities under the palm trees. Just inside you'll join the group for dinner around a beautiful wooden dining table. Fishy artwork and a couple of Jose's trophies from the Del Brown and March Merkin tournaments lead the decor. The main floor also holds a fly-tying room for guests, main floor bar and a commercial kitchen in the back. Double occupancy rooms include A/C and private bathrooms. Don't miss the rooftop bar -a great place for fish stories and your favorite cocktails with friends overlooking the beach and the water.
Lily has now been fishing in Ascension Bay and managing flyfishing lodges for 19 seasons. She and Jose are both hands-on owners and their goal is to have those staying at the lodge feel like family. Lily and Jose are there for dinner, to help with gear, guide pairings and questions about the fishing and the bay. Guides are invited to dinner on the last night and friendships between anglers and the Kay Fly family run deep. These friendships and the remarkable Ascension Bay offerings keep anglers coming back each year.
Lily is quick to point out Jose's experience and style are unusual in the Punta Allen lodge opportunities and it makes a difference. He is native to Punta Allen; his grandparents and uncle were lobster fishermen. Having spent his entire life here, Jose has 'intimate relationship with the bay". He understands it, began guiding when he was 14 and enjoys sharing it with visiting anglers. This Ascension Bay knowledge and his willingness to join anglers for dinner each evening and assist with questions is unusual.
When asked why Ascension Bay over other locations…. Lily loves both Ascension Bay and the small town feel of Punta Allen. "There is so much less pressure on the fish than places like the Florida Keys offer", she notes. The keys offer recreation to jet skies, yachts and major airports to feed them. Ascension Bay offers one road from Tulum and one rarely used road from the jungle. The pressure in Ascension Bay is far less than the keys; offering a much better chance at Permit, Tarpon, Snook, Bonefish and more.
Although quite modest, Lily's flyfishing skills are impressive. She is fishing the Herman Lucerne Memorial Tarpon Cup and the Ladies Fly Tarpon Tournament in Islamorada, and gets a few days on the water in Ascension Bay between guests, managing the lodge and her two boys. She finds women's groups at the lodge tend to offer a less competitive and more supportive environment. Everything on the salt happens so fast! It can be intimidating but it is worth the effort! 
Lily is definitely another supportive and successful woman in the flyfishing industry that you will want to get to know. She enjoys hosting  anglers of all ages and from all walks of life. If you get the chance to visit the lodge don't miss out! Join the Finatical Flyfishing women's group Feb 4-11, 2023.