Steph Albano
Category
Blog
Date
Hits: 1914
Meet Julie Meissner, Guide and Former Stanley, Idaho Outfitter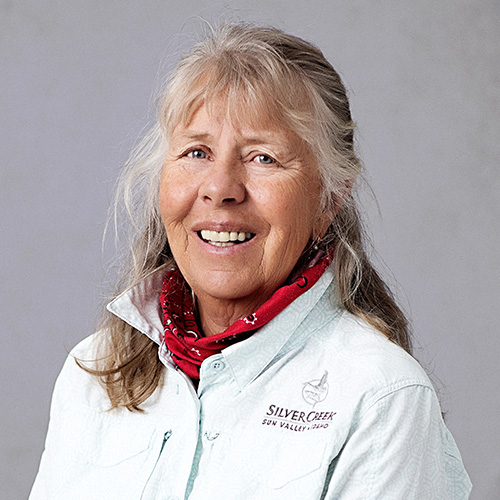 From time to time we like to feature some of the great women in the flyfishing industry today. Meet Julie Meissner, based in Stanley, Idaho.
Julie was born and raised in central Oregon by a father who was the ski school director at Mt. Bachelor and a mother who taught outdoor programs for the community college in Bend. She grew up ski racing with her siblings in the winter and working in the family marina business at Odell Lake in the summer. It was the amazing snow and backcountry skiing that called Julie to Stanley, Idaho in 1981. She planned to stay one winter, working as a backcountry ski guide but has been in Idaho ever since.
She worked as a white-water guide on the Middle Fork of the Salmon for about 20 years and has guided the Main Salmon, the Bruneau, the Owyhee, Hells Canyon, and other well-known regional rivers as well. Over time she moved more and more into guiding flyfishing trips.  In 2000 she started her own business on the Upper Main Salmon with a wading and float permit. Her guiding business did well, and she helped at least two other guides get into the business. There have always been five guides on that section of the river but when Julie started the permits were not used that much.  Fish and Game doesn't stock some of the area and it was a hidden gem.
Due to her passion for being on the water, she sold that business to Silver Creek Outfitters in 2010. Continuing to guide for Silver Creek she no longer had to spend time doing payroll, marketing, and other office-associated business activities which allowed for more time guiding and fishing. Her flyfishing skills, appreciation for the outdoors, and relationships with her guests are highly prevalent when you get the chance to talk with Julie. We've had many comments on our social media posts regarding fabulous days on the water and the demonstration of 'not a better day to be spent.
Mary Ann Dozer is one of the people Julie helped get into the guiding business and she has a lot of respect for Julie. "Julie knows the river like the lines on her hand, better than any other guide you can find.  She knows how to optimize the day for the anglers on her boat! She'll put you in situations to catch based on your casting skills! I will always be indebted to Julie for mentoring me as a flyfishing guide. You will never meet a more knowledgeable humble guide."
Julie really values meeting so many amazing people and sharing experiences in the outdoors. One of the more famous clients was a member of President Clintons' cabinet! You ask about favorite stories on the river, she will tell you about a guest who was very new to flyfishing who landed a 24 ½" Cutthroat. That's a big fish on any river but especially the section of the Salmon below Stanely. That story exemplifies the great teamwork that can happen between angler and guide. 
These days Julie only guides about 20 days per year. She enjoys her time hiking, gardening, and skiing in addition to traveling to countries like Peru and Nepal. Being able to take a couple of months and really immerse yourself in a country and experience the culture is something that really exemplifies Julie's spirit.

She has a handful of guests who return each year to fish with her. We're very lucky and appreciative of the opportunity to offer time on the water with Julie Meissner during our September 18-22 trip.