Steph Albano
Category
Blog
Date
Hits: 2732
Meet Olivia Elia - The First Woman Bamboo Rod Builder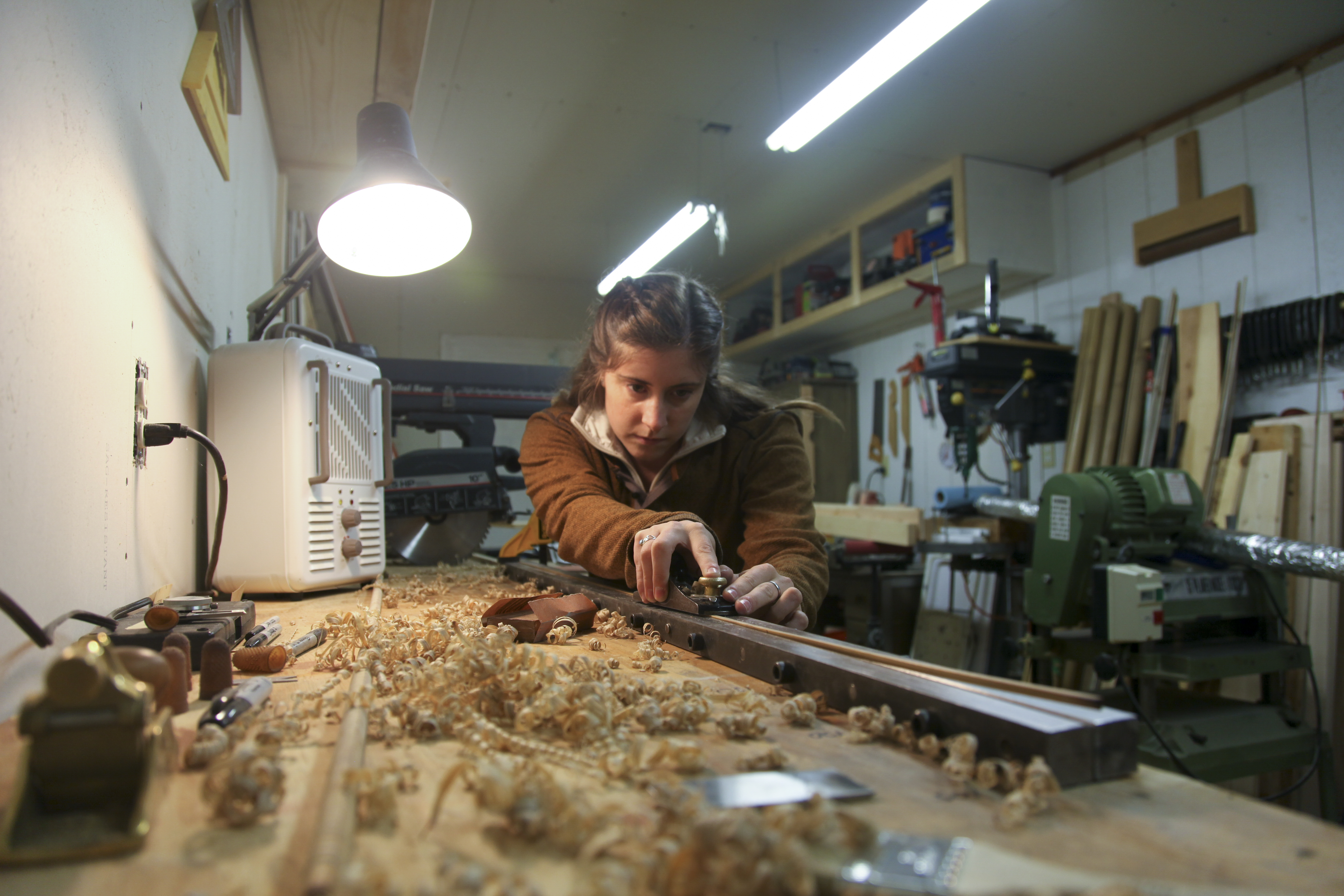 One of the missions of Finatical Flyfishing is to highlight some of the women leading the fly-fishing industry today. There are some fabulous guides, women who own their own shops, and others in various segments of the industry. One segment of the industry that has deep ties to the roots of fly fishing, is bamboo rod making. Before the existence of graphite, before fiberglass, rods were built from bamboo. We may not consider what the making of a rod entails until we have the opportunity to watch the detailed process in action.
We're honored to introduce you to Olivia Elia, perhaps the first woman building bamboo fly rods. When Olivia was three, her dad gave her a large block of wood, a hammer, and a box of nails for Christmas. She learned both the passion for woodworking and the skill for detail from her Dad at an early age. Olivia's interests have always involved creating with her hands and that has led to many artistic pursuits. She also developed an eye for composition and design in her study of photography.
After receiving her Bachelor of Arts from UCLA, Olivia went on to teach fly fishing as well as pursue her passion for it. She worked at Kala Ukulele while in California and is now at Preston Thompson in Sisters, Oregon building guitars. The profession of being a luthier has strengthened her woodworking skills with knowledge of tools and materials, precision, and artistic endeavor. Olivia's time and dedication to rod building have increased over the last two years. Her first apprenticeship was with master rod builder Russel Beck. She then moved to Sisters, Oregon to serve a second apprenticeship with master rod builder Dave Dozer in Sisters. Today she is building rods and is still close to Dave and Mary Dozer in Oregon. Although she has only been at it a relatively short time, she has orders stacked up to February 2022.
Bamboo rod building is truly an art form. This type of rod is made of six strips of bamboo glued together to form a hexagon. The strips are triangular in cross-section and tapered creating a tapered rod from handle to tip that is both pleasing and functional to use. The art of planing these pieces is one thing. The rod building process also includes sourcing the right materials, assembling it together, and finishing the rod. When one becomes aware of the skill involved with achieving the proper flex in the rod, line management and everything else….... you begin to appreciate this art.
Regarding Olivia's designs and personal brand, we'll share this quote:
"Finely crafted bamboo fly rods evoke a feeling of artistry, quality craftsmanship, and tradition. My goal in building bamboo rods is to create a rod that will move exactly as the caster desires. A rod that dances to it's maximum ability. I hand build all my bamboo fly rods one at a time.  I invest upwards of 80 hours building each rod, and I am intent on superior quality and precision in my building process. My tapers are inspired and adopted from those of historic bamboo rod builder, Jim Payne, who was considered to be one of the finest rod designers in modern time. My rods all have a crisp medium-fast action, perfect for delicate dry fly presentations to the most selective trout. I use the finest quality components on all my rods, and I turn all wood reel seats on my rods from hand selected figured hardwoods. I offer a number of different rod sizes/weights that I'm sure will meet your demanding needs of a quality bamboo fly rod."
If you like the visuals, her Youtube video illustrates the skill, precision and artistry involved in her bamboo rods. https://youtu.be/OORAB-JZHWI
Olivia has been featured in the Bamboo Journal which is produced by the Italian Rodmakers Association.  You can find that story here (page 50). Visit her website at www.oliviaelia.com/bamboorods for more details on her rods or contact her at This email address is being protected from spambots. You need JavaScript enabled to view it. or 605-877-5247.