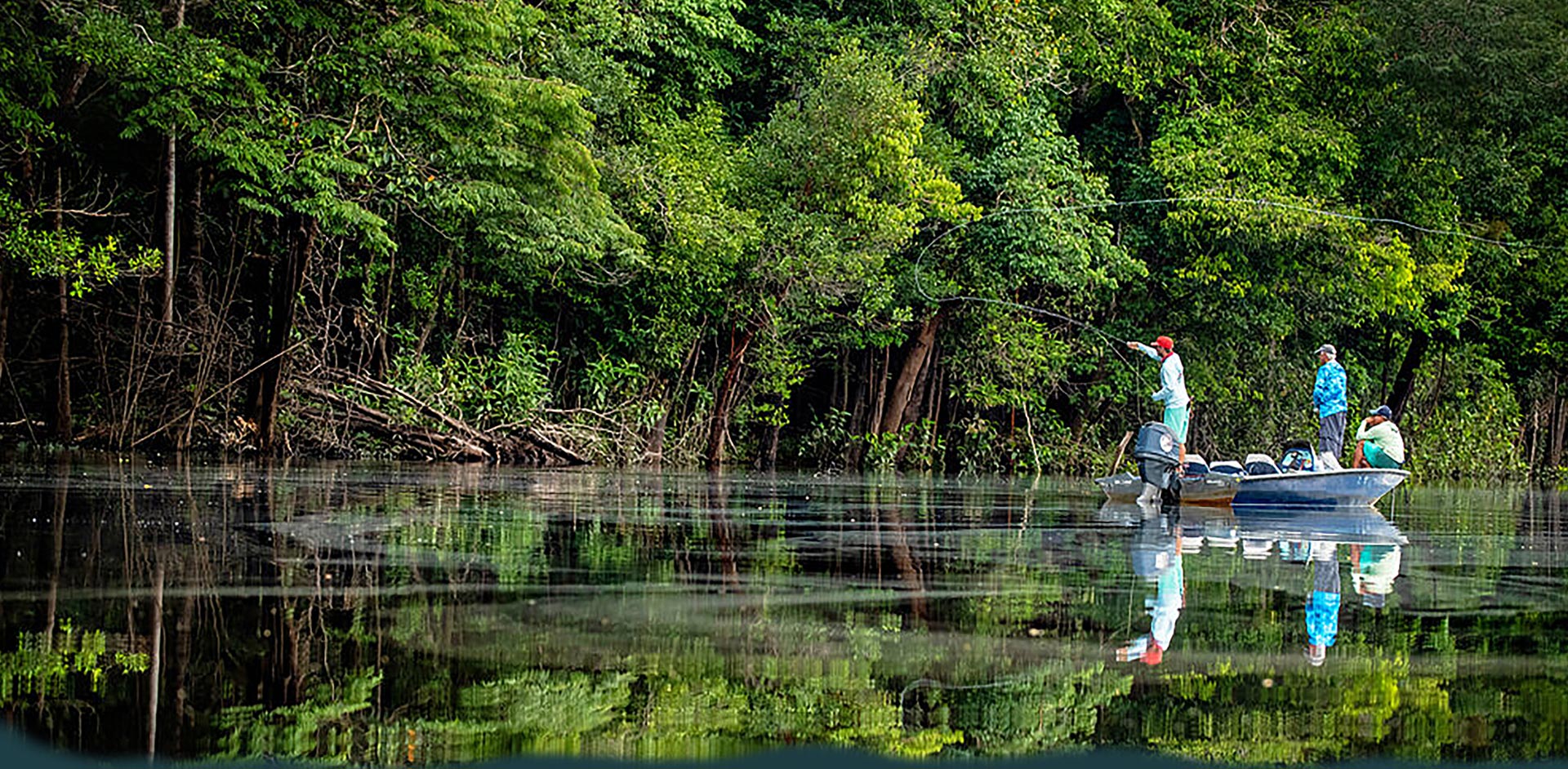 Co-Host Jean Williams-Bruun
We're honored to co-host this trip with Jean Williams-Bruun! The Rio Negro is a world-class Peacock Bass fishery and Nomadic Waters will put you in front of these fierce predators. Based on their mothership, we will be fishing different water every day to give you plenty of remote access to these aggressive fish and a few other species. 

Your package includes six full days of fishing and eight nights in country. We will be staying on Nomadic Waters liveaboard and fishing from their fleet of Bass Trackers each day. In addition to the fishing, you'll see the incredible jungle canopy and watch the Mackaw's, Howler Monkeys, Dolphins and other amazing wildlife.

A liveaboard trip is truly an amazing adventure. Staying on the water in remote locations in the middle of the Amazon is an experience like no other. This will not only be one of those great escapes to a fishing paradise but an experience to see this corner of the world in a way not many people ever will. You will be immersed in the jungle rivers and this amazing fishery, and enjoy the sun rise and the beautiful sunsets as you relax on the mothership each night. It will be an experience you'll treasure for a lifetime.

Nomadic Waters has been a leader in setting high standards to keep their crew and guests safe. They hold themselves to bringing you nothing less than the safest and most amazing experience. Established daily cleaning protocols are in place for all of their vehicles, boats and the mothership, all crew members have been vaccinated. If we have any reason to believe the trip is not safe we will move to future dates.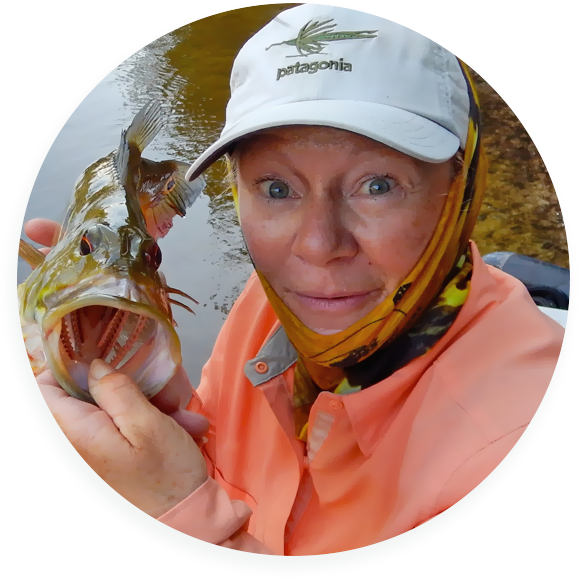 Jean is an impassioned angler, environmental steward, professional fly fishing guide, traveler and host. Constantly honing her personal fishing skills, she loves exploring new waters, meeting new cultures, and sharing these journeys and consequential fishing techniques with others.
Since 1995 Jean has guided fly fishing guests from Colorado to Alaska, and for the last seventeen, in her beloved Jackson, Wyoming. Her love of exploration, the hunt for challenging fish, with the ultimate goal of sharing these fishing journeys expanded naturally to Brazil. This will be her seventh year hosting with Nomadic Waters.
Featured in articles and books including 
Fifty Favourite Fly Fishing Tales
, by Chris Santella,
No Nonsense Guide to Fishing Guide's Favourite Waters
, and most recently,
Fifty Women Who Fish
, by Steve Kantner. Other features include a DVD published by Barbara Klutinis, "Stepping Into the Stream," and American Fly Fishing in Alaska, to name a few.
Jean remains very active environmentally, serving as a lifetime member of Trout Unlimited, American Rivers, CCA, Bonefish Tarpon Trust, and continues with special environmental projects with Patagonia. She is a Retreat Leader for Casting for Recovery Wyoming (CFR) and co-Fly Fishing Instructor. She also volunteers as a fishing guide with Honouring Our Vets, a program which offers veterans of all wars a free week in Jackson to be appreciated and honoured.

Brazil with the wonderful operation that is Nomadic Waters has provided the means to fish for some incredible fish, while supporting the staff and river families as well as their environments in Brazil. There is a bigger picture and responsibility. Join us for a trip of a lifetime.....to see a great jungle, her rivers, fish and creatures, forests, and most importantly, to experience and get to know her people. You will come for the fish and return for the family that is Nomadic Waters.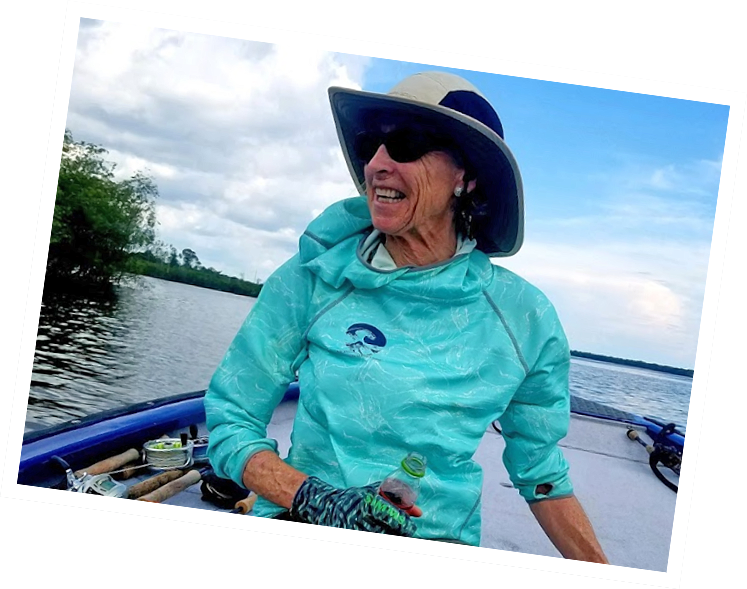 Fly into Manaus, Brazil. The Nomadic waters team will pick us up at the airport and transfer us to our hotel for the evening. The next day we fly out aboard a private charter flight to Barcelos, Brazil where we board the mothership and depart for our favorite fishing grounds. We'll make the return trip to Manaus and spend another evening before departing to the United States the final morning.
All accommodations are single occupancy with queen beds, a private bathroom and daily laundry service.

Brazilian cuisine is served throughout the trip. The table is always full with a wide variety of dishes for you to choose from. Each meal is carefully crafted from local, fresh ingredients. Any dietary concerns, allergies and requests can be addressed. Domestic beer and Chilean wines are included and you are welcome to purchase your favorite liquor in the duty free shop and bring it along.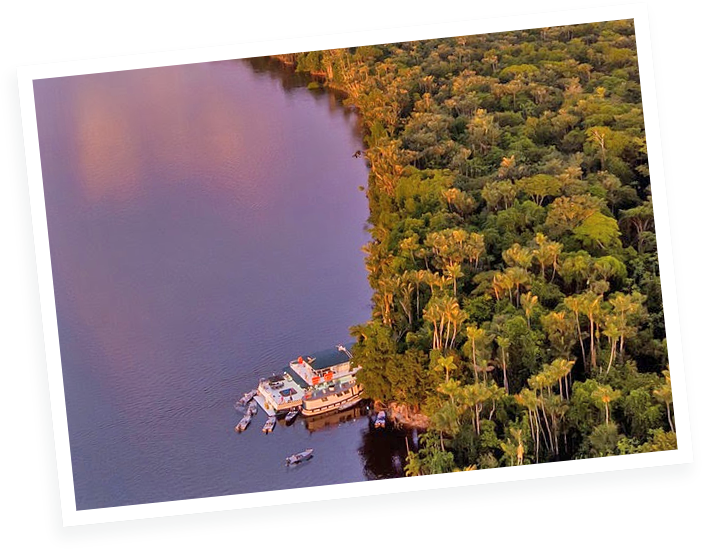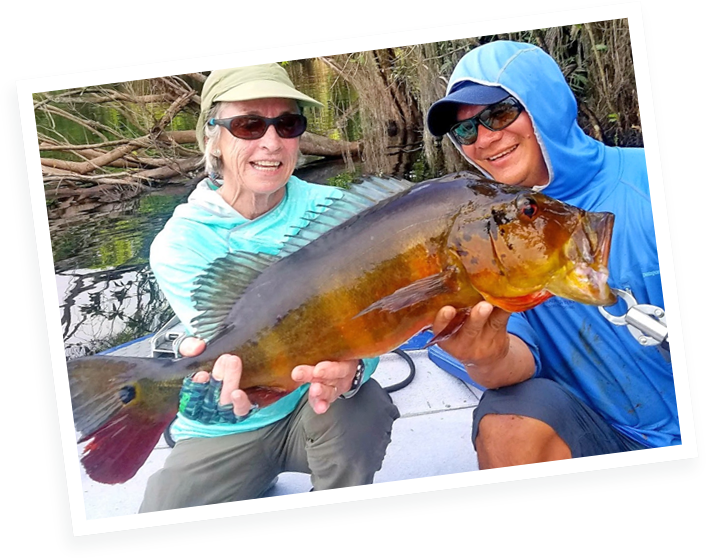 6 Days of guided fishing on Nomaic Waters fleet of Bass Tracker boats.

8 nights of single-occupancy lodging in country; both on the mothership and hotels during travel.

All meals aboard the mothership, including domestic beers and Chilean wines.

All charter flights.

This trip is personally hosted by Finatical Flyfishing and Jean Williams Bruun. Michael Williams, Nomadic waters owner and operations manager will also be hosting and managing operations.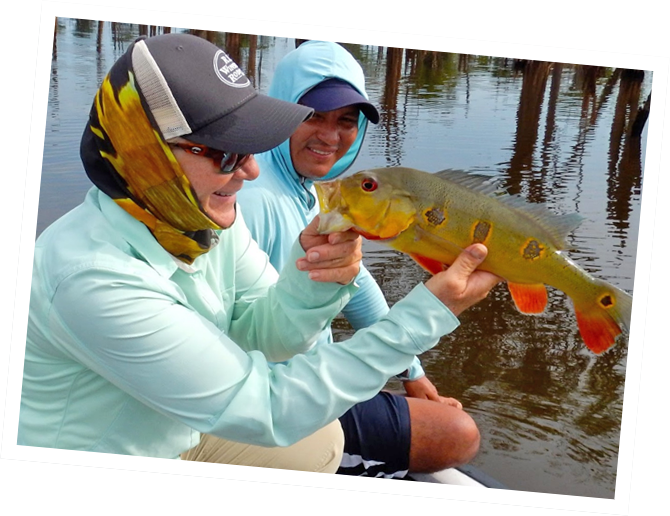 One lunch and one dinner on the return trip from the mothership to Manaus

Rods, reels, and tackle. Rods and rentals can be rented

Global Rescue; we will arrange a 10 day special package for you for an additional $95.

Flights to Brazil.

Gratuities for guides and staff.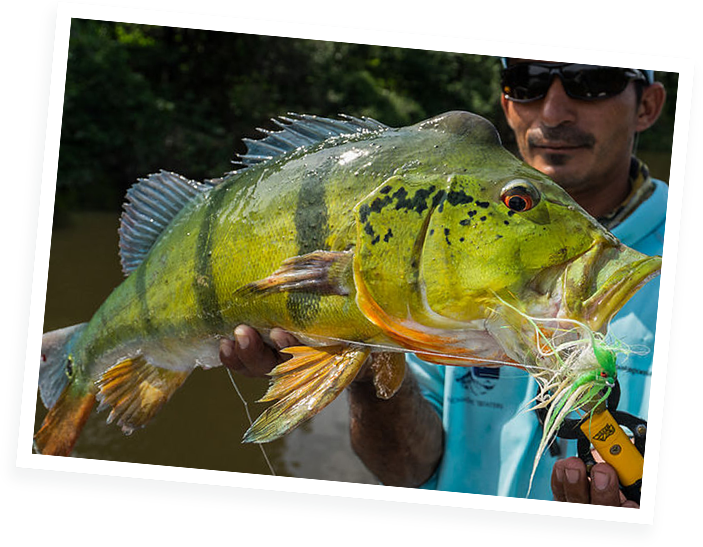 Stay Current on All New Trip Announcements by Joining Our Newsletter